LED technology is a discovery made in September 1961 by James R. Biard and Gary Pittman, then working for Texas Instruments in Dallas, Texas. It was the discovery of near-infrared (900 nm) light emission from a tunnel diode that they had constructed on a GaAs substrate. In October 1961, they demonstrated efficient light emission and signal coupling between a GaAs p-n junction light emitter and an electrically-isolated semiconductor photodetector.

Based on their findings they filed a patent titled "Semiconductor Radiant Diode" on August 8, 1962, in which they described a zinc diffused p–n junction LED with a spaced cathode contact to allow for efficient emission of infrared light under forward bias. On establishing the priority of their submissions against submissions from other Research Labs, the U.S. patent office issued the two inventors the patent for the GaAs infrared (IR) light-emitting diode, the first practical LED. In October 1962, Texas Instruments announced the first commercial LED product (the SNX-100), and in October 1963, the first commercial hemispherical LED, the SNX-110.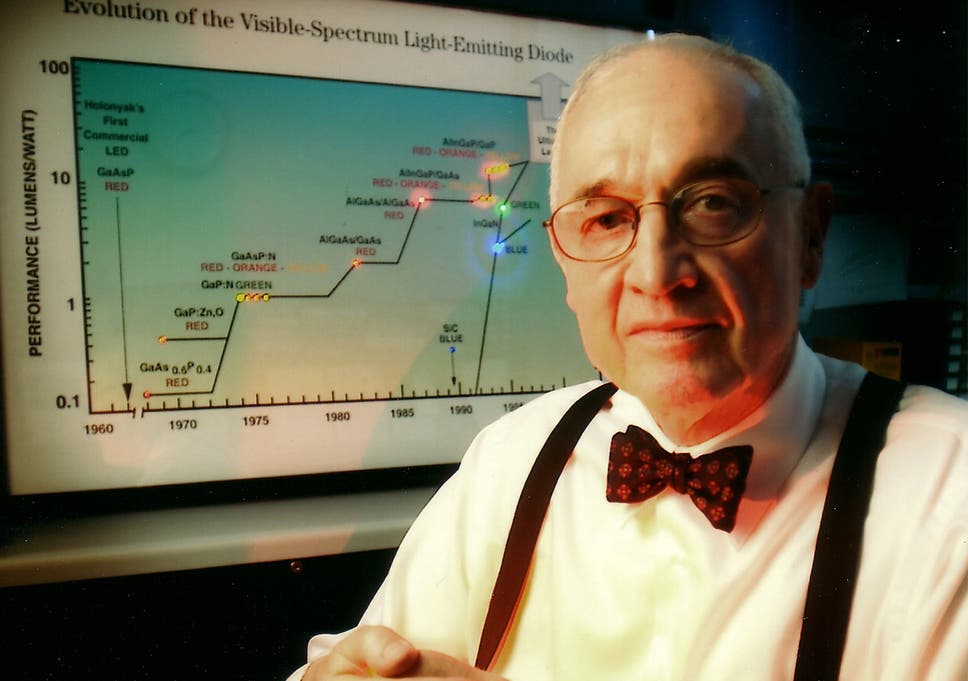 In 1962 Nick Holonyak, Jr. developed the first visible-spectrum (red) LED while working for General Electric. He first reported his contribution in the journal 'Applied Physics Letters' on December 1, 1962. In 1972, a former graduate student of Holonyak, M. George Craford invented the first yellow LED and improved the brightness of red and red-orange LEDs. In 1976, T. P. Pearsall created the first high-brightness and high-efficiency LEDs for optical fiber telecommunications. He invented new semiconductor materials, specifically to adapt to optical fiber transmission wavelengths.
The very first commercial use of LEDs was as replacements for incandescent and neon indicator lamps as well as in seven-segment displays. They were initially used only in special application equipment used in laboratories and for electronic testing. LEDs later found their way in appliances such as TVs, radios, telephones, calculators, as well as watches. Until 1968, visible and infrared LEDs were extremely costly, costing up to US$200 for each unit.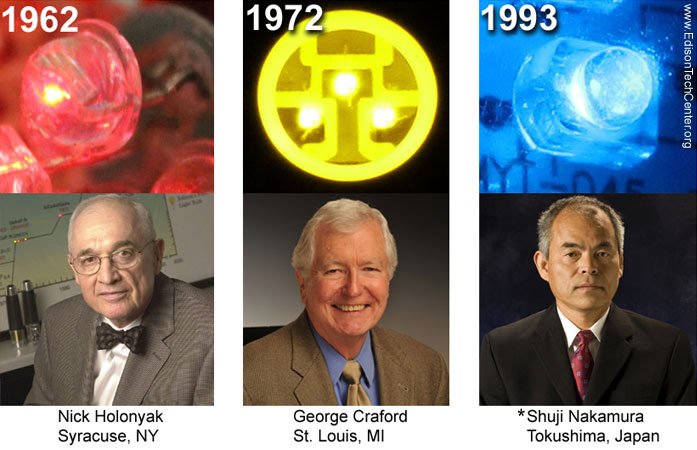 They therefore had little practical use. Monsanto takes the credit of the first company to mass-produce visible LEDs, using gallium arsenide phosphide (GaAsP) to produce red LEDs suitable for indicators in 1968. Also in 1968, Hewlett-Packard or HP introduced LEDs, initially using GaAsP supplied by Monsanto. These red LEDs were bright enough only for use as indicators, as the light output was not sdequate to illuminate an area. Readouts of calculators were so small that plastic lenses had to be built over each digit to make them legible. Later, other colors became widely available and appeared in appliances and equipment.

In the 1970s Fairchild Optoelectronics finally produced commercially successful LED devices at less than five cents each. These devices employed compound semiconductor chips fabricated with the planar process, an invention by Dr. Jean Hoerni from Fairchild Semiconductor. This successful combination of planar processing for chip fabrication and innovative packaging methods enabled the team at Fairchild led by optoelectronics pioneer Thomas Brandt to achieve the needed cost reductions. LED manufacturers of today use these methods.