Upgrade to LED isn't rocket science. User friendly DIY kits are available in the market. You can order these online. The tools are basic. Even a flat head screw driver or pick tools are sufficient. Your installation time is just about 30 mins. Test your LED interior kit for errors or any other LED related issues. A kit should comprise of the following.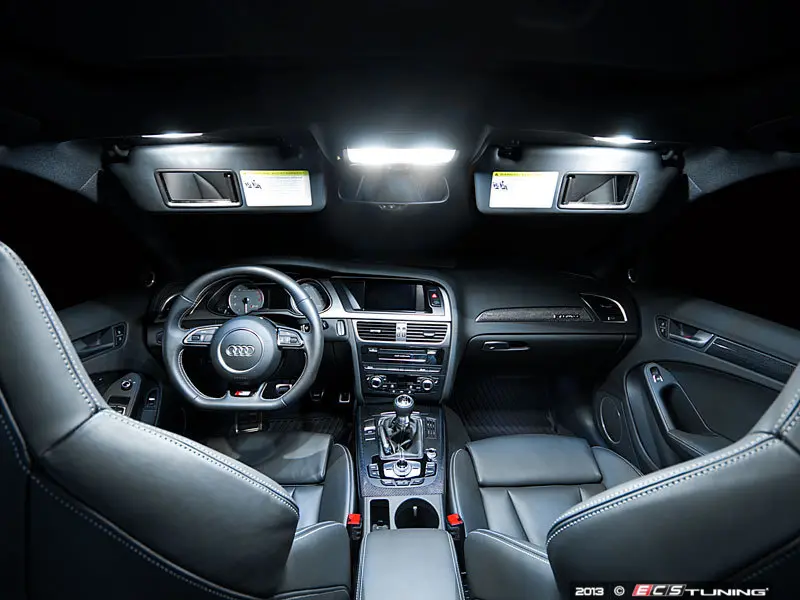 12 LED panels (x2) - front and rear center dome
T10 bulbs (x8) - map, foot wells, doors
39mm festoons (x1) – glovebox
42mm festoons (x3) - visor and trunk
Additional four (4) T5 bulbs to go into the back seat area in case of a coupe

We shall start off with the easier sections first so let's begin with the door lights. Undo the courtesy door lamp with your flat head screw driver. Look for the insertion groove and gently undo the courtesy lamp assembly. Replace the bulb with the T10 high powered LED bulb. Check for polarity and if the LED bulb does not turn on, remove and flip around. Properly put back the top cover and insert the courtesy lamp carefully into its slot. The light should point and shine to the rear of the cabin. Repeat a similar procedure for the foot wells.
For the glove box, undo the lamp housing. Disconnect the plug and replace the bulb with the 39mm LED festoon. Install and reconnect the housing to check for power. If it doesn't light up, disconnect to avoid blowing the fuse and flip to reverse polarity and reinstall. Follow a similar procedure for the trunk lamp housing.
For our next task of replacing the visor lights, simply undo the housing and replace the bulb. In case of a coupe, remove the cover with a flathead. Once the housing is exposed remove all the stock halogen bulbs. Before installing all the T5 bulbs, insert each LED half way to check polarity so that it turns on before inserting them in fully. Also ensure that the metal pins make contact for a secure connection. This would save time and trouble.
We now come to the dome. Undo the rear dome unit for full access. While inserting the T10 base into the bulb holder, ensure that the two metal pins of the bulb make proper contact within the holder. Test, recheck and repeat if necessary. For the front dome, undo the sun roof strip. Pull apart the upper roof lining and locate the two pressure prong clips. Depress the passenger side clip and repeat the same for the driver side. The T10 based adapters for the LED panels should be pre-installed during the previous front/rear dome steps. Reconnect the panels and check if they light up. If not, disconnect and reverse polarity. Also, double check the T10 base connection in the bulb holder. Once up and running, remove the red backing and mount it up in the center housing. Refit the frosted lens back on and refit the sunroof strip.