When you buy a car, the additional car accessories are overlooked most of the times as you might suddenly feel like saving some bucks by cutting on the accessory costs. The automobile industry is getting better every day and to make your journey smooth and secure at the same time, you should invest on a few accessories that would not cost much. Be it assistance during a long road trip or emergency help during any accident (by all means, you would not want this to happen) or for daily driving assistance –these accessories will be helpful in the long run.
Jump Starter
Jump starter is one of the important car accessories to help starting your car when it doesn't due to battery problems, especially in winter season. This keeps the car running properly even when your engine is weak.
Dashboard and Backup Camera
A dashboard camera will be helpful in recording the action inside the car and is really handy when you have met an accident. Also add a backup camera behind the window of your car to keep track of what is behind.
Blind Spot Mirrors
You never know when a car starts to honk behind you or try to overtake you without any warning. To keep yourself and the vehicles behind you safe, install the blind spot mirrors as car parts.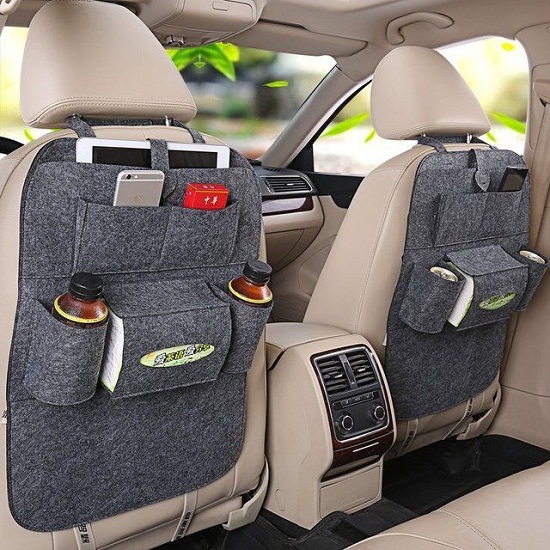 Mobile Holder

Yes, keeping mobiles is a concern for everyone and mobile holder is a must have accessory that you can stick on the glass, on the dashboard and on the seats.
Car Perfume
Car interior is susceptible to have odors from the sweating, shoes, the things you store inside etc. To keep the interior ambience pleasant, use a car perfume spray or attach a liquid on the dashboard. 
Trash basket
Throwing garbage on the road while driving or travelling is not at all responsible. Why not install a trash basket on the inside section of the door? The trash basket being waterproof can also act as a cooler.


Tire Gauge
While you are on a road trip or traveling long distance, the tire gauge can help you measure the air pressure in the tires. It is simple to plug in to air pin and can be adjusted accordingly. 
Tissue Box Holder And Cup-holder
You can always make new modifications in your car to make driving comfy and easier. You can shed tears, sweat profusely or need to wipe some dire off –a tissue holder can keep a lot of tissues at place. The cup holder between the driver eat and passenger seat or between the backseat can help you travel without worry of spilling your drink. 
USB Cable
The USB cable installed with the media player device in your car can help you in charging your phone, connecting with media player to play music and even connecting to other electronic devices.
Flat Tire Fixer
Imagine you have a flat tire and there is no mechanic shop nearby. The Fix A Flat can is a must have accessory to seal any gap with maximum 3/16 inches in diameter. Although a temporary solution, but it can let you drive the car for a significant distance until you reach a shop to change the tire.
With the above-mentioned accessories installed perfectly inside your car, you can be assured of a smooth and hassle-free ride. The accessories are also very affordable and offer quick solution so that you can use them at ease.